"

A sweeping, scintillating performance...EAE had its technology so well in hand that (they) could take chances at every turn." - Mark Miller
— The Toronto Globe and Mail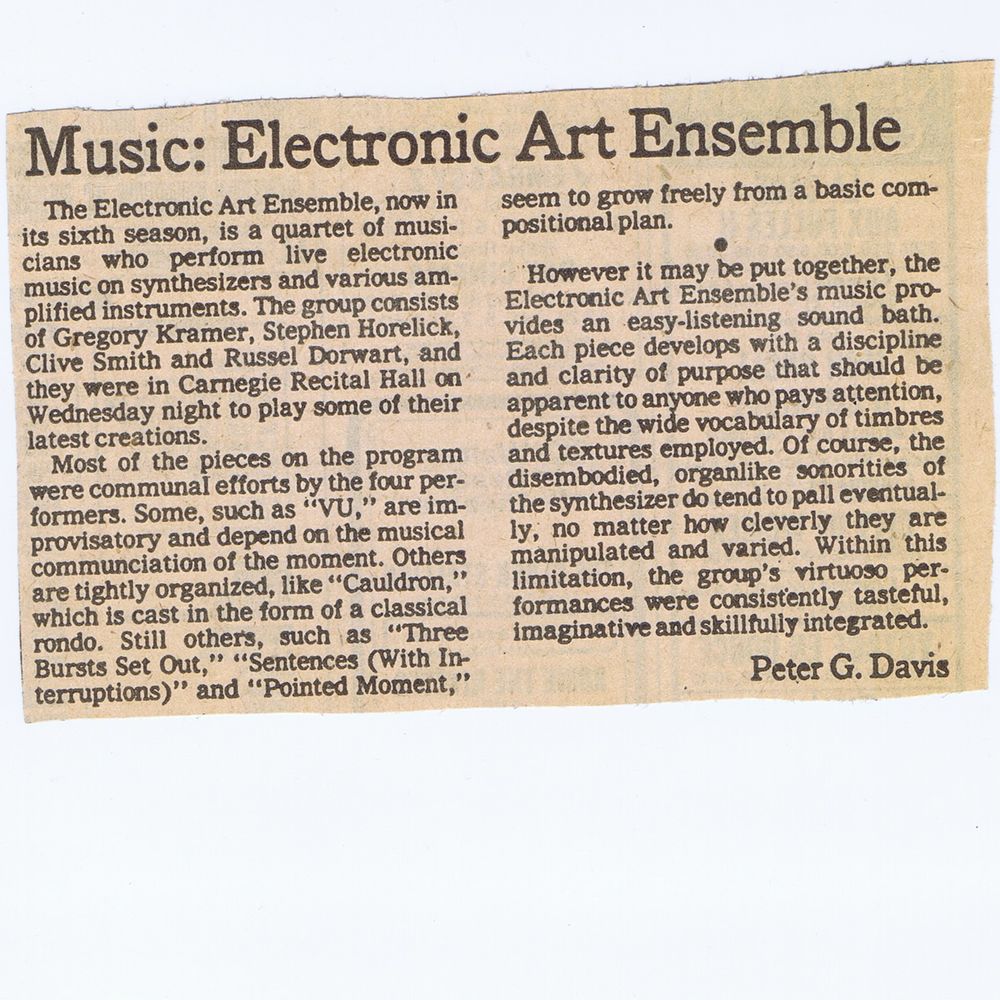 The New York Times
Peter G. Davis
CARNEGIE RECITAL HALL CONCERT May 1981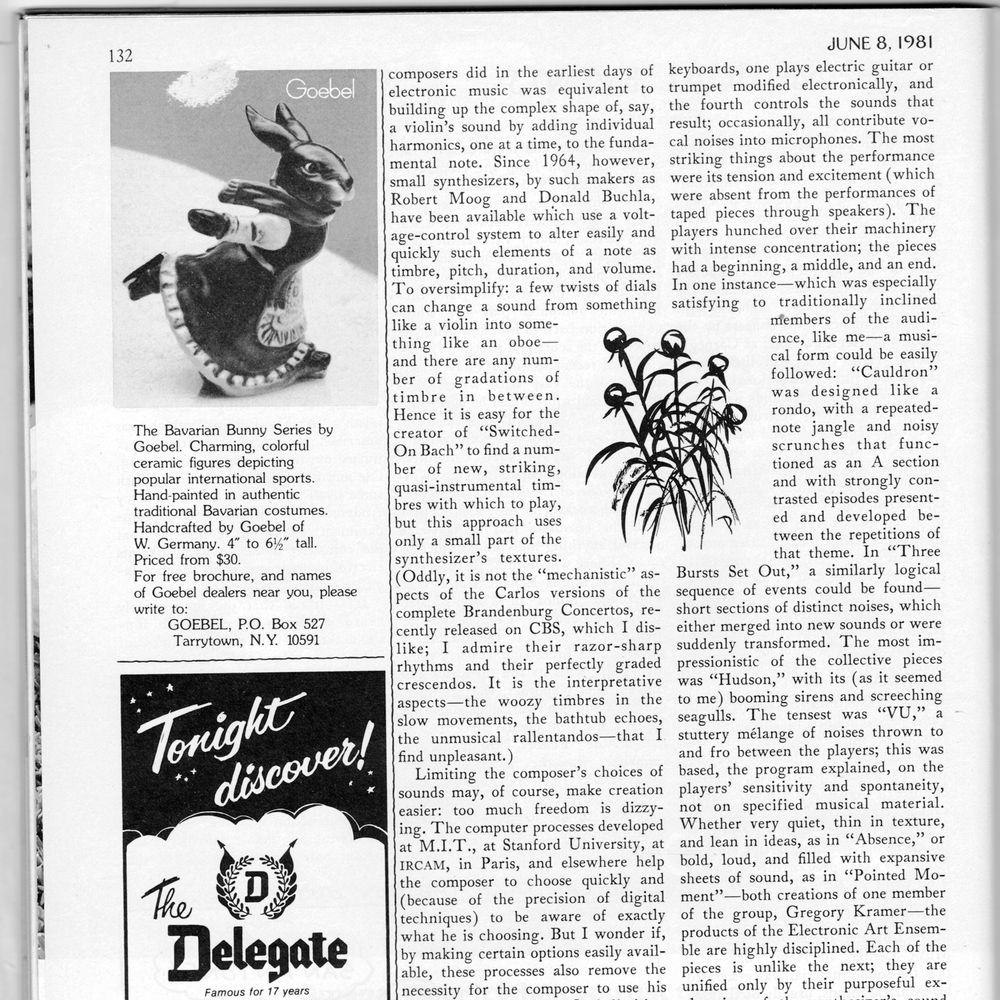 The New Yorker
Nicholas Kenyon
CARNEGIE RECITAL HALL CONCERT May 1981
EAE Carnegie Recital Hall, May 1981
Nicholas Kenyon, The New Yorker 
The Electronic Art Ensemble gave New York premieres of four recent works that were the result of collective composition. There are four players in this group: two control Buchla synthesizers and electronic keyboards, one plays electric guitar or trumpet, modified electronically, and the fourth controls the sounds that result; occasionally all contribute vocal noises into microphones. 
The most striking things about the performance, were its tension and excitement. . . The players hunched over their machinery with intense concentration; the pieces had a beginning, middle, and an end. And one instance – which was especially satisfying to traditionally inclined members of the audience, like me – a musical form could easily be followed: "Cauldron" was designed like a rondo, with a repeated note jangle and noisy scrunches that functioned as an A section with strongly contrasted episodes presented and developed between the repetitions of that theme. In "Three Bursts Set Out," a similar logical sequence of events could be found – short sections of distinct noises, which either merged into new sounds or were suddenly transformed. The most impressionistic of the collective pieces was "Hudson," with its (as it seemed to me), booming sirens and screeching seagulls. The densest was "VU," a stuttery melange of noises thrown, to and fro between the players; this was based, the program explained, on the players sensitivity and spontaneity, not on specified musical material. Whether very quiet, thin in texture, and lean in ideas, as in "Absence," or bold, loud, and filled with expansive sheets of sound, as in "Pointed Moment" – both creations of one member of the group, Gregory Kramer – the products of the Electronic Art Ensemble are highly disciplined. Each of the pieces is unlike the next; they are unified only by the purposeful exploration of the synthesizer's sound world.
EAE Media Study Concert Buffalo, NY July 1981
Andrew Stiller
"Controlled, zestful improvisatory electronic ensemble performs in Media Study"  
The New York based ensemble is dominated by Gregory Kramer and Steven Horelick who played synthesizers and electric organs. Russel Dorwart handles traffic control with a mixer board and sequencer, while Clive Smith provides punctuation and background with electronicized electric guitar and trumpet. 
Most of their compositions are collective, and based on tightly controlled, cooperative improvisation. 
While such ensembles are more the rule than the exception at Media Study, it is rare indeed, to hear this kind of high-tech improvisation performed with so much intelligence, care, and zest. 
Two things stand out in the memory. First, you could actually tell which player was contributing which notes to the performance. This is another way of saying that they truly did perform, retaining control over what they were doing rather than letting the machinery take over. 
Second, they really listened to each other. Intently. Constantly. It's a mind blowing experience to watch someone "play" a mixer board (which makes no sound of its own) with all the furrowed intensity of a string quartet cellist, holding up a baseline. 
And here are Horelick and Kramer during a frantic moment in "VU," desperately adjusting as many knobs and sliders as possible before the next que. Something right happens, and there's a hurried exchange of broad smiles. Horelick takes a deep breath, nods his head, and they're off into the next que. 
The compositions themselves breathe this spirit. Three Bursts Set Out, VU, Hudson, and the other four works on the program were full of grandeur and good humor, Jovian, and jovial. It's not only infectious, it's downright friendly. 
And when the cackles, beeps and whiz-bangs get too rambunctious, a triad as broad as a six-lane Highway will curl up out of the electric organ, or whatever, and blanket the chaos in glory. 
...EAE's music is entertainment of the highest order: entertainment that feeds the mind and lifts the spirit. 
EAE Toronto Music Festival, July 1981
Review by Mark Miller The Globe and Mail "Canada's National Paper" 
Headlining the The Music Gallery's first two concerts of the festival on Thursday night was: "a sweeping, scintillating performance by the Electronic Art Ensemble, and a rather dreary representation of five composers, affiliated with the Structured Sound Synthesis Program at the University of Toronto. The EAE, a quartet of New York musicians – three playing (synthesizers, guitar, trumpet), and the fourth mixing and reprocessing their efforts – had its technology so well in hand, that it could take chances at every turn as it played through six original compositions. The music made many allusions stylistically, from orchestral rock to free improvisation, and had the kind of visceral excitement that the best units in those fields can generate. This is clearly a performing band complete with stage sense, and not a studio-oriented group that periodically emerges, eyes blinking, with its latest work in hand." 
This was, in fact, the very impression left by the University of Toronto composers who exemplified – as is often the case – the inherent contradiction in the concert performance of electronic music.
Pics